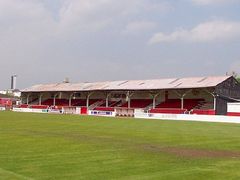 Ebbsfleet United
Ground Name: Stonebridge Road
Capacity: 5,011 (500 seated)
Address: Northfleet, Kent DA11 9GN
Telephone No: 01474 533796
Fax No: 01474 324754
Pitch Size: 103 x 65 metres
Team Nickname: The Fleet
Club Founded: 1946 (as Gravesend and Northfleet)
Year Ground Opened: 1905
Home Kit Colours: Red & White
Official Web Site: www.ebbsfleetunited.co.uk
Fans Forum: www.eufcforum.com
What's The Ground Like?
On one side of the ground is an old looking wooden Main Stand. This single tiered covered stand, is all seated and runs for around half the length of the pitch. This stand has a fair number of supporting pillars running along the front of it, although the seating is raised above pitch level. There is also a tiny terrace in front of this stand. Entrance to the seated Main Stand is gained within the ground, on payment of a transfer fee (£2 per adult, £1 per concession). Opposite is a fair sized terrace, which has a simple rusty looking roof which covers the middle portion of it. One end is known as the Club House End. This is a partly covered terrace (to the rear), which looks quite picturesque with a wooded hill just beyond it. The other end, known as the Swanscombe End, is an open terrace that is dominated by a huge electricity pylon which sits directly behind it. This end is given to away supporters.
The Club was formed in 1946, following the merger of Northfleet United and Gravesend United. It was renamed Ebbsfleet United in 2007.
Where to Eat & Drink?
Inside the ground is a comfortable Club House which is popular with both home and away fans alike. Otherwise, next to the ground is 'The Plough' pub. There is not much else in terms of eating or drinking establishments near to the stadium.
How to Get There by Car & Where to Park
From the M25 (South):
Leave the M25 at Junction 2 and take the A2 towards Gillingham. Then take the B262 towards Stone/Greenhithe. At the end of the B262 turn right onto the A226 towards Northfleet & Gravesend. Keep on this road until you reach the ground on your left.
From the M25 (North) - Dartford Bridge:
After coming over the bridge keep to the left hand lanes and after passing through the toll booths turn left onto the A226, towards Northfleet. Keep on this road until you reach the ground on your left.
There is a fair sized car park at the ground (small fee), otherwise street parking.
Nearest Train Station
The nearest station to the ground is Northfleet, which is only a few minutes walk away from the ground. The station is served by trains from London Bridge & Charing Cross.
Admission Prices 2012/13
Adult (terrace): £15
Concessions (under 18s and over 60s - terrace): £10
Children (5-12 years old): £5
Under 5s: Free
Record Attendance
12,032 v Sunderland
FA Cup 4th Round, February 12th 1963.
Other Places of Interest
In nearby Chatham is the Chatham Dockyard Museum, detailing the history of mostly naval ship building in the area. More information can be found at: www.cdhs.org.uk.
Posted: Monday , February 02, 2009