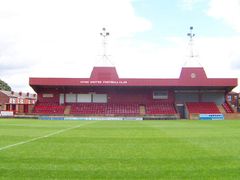 Hyde FC
Ground Name: Ewen Fields
Capacity: 4,250 (Seats 550)
Address: Walker Lane, Hyde, Cheshire, SK14 5PL
Telephone No: 0871 200 2116
Pitch Size: 114 x 70 yards
Team Nickname: Tigers
Club Founded: 1885
Year Ground Opened: 1885
Home Kit Colours: Red & White
Official Web Site: www.hydefc.co.uk
Fan Forum Web Site: www.eyeonthetigers.co.uk
What's The Ground Like?
The ground has a nice combination of new and old, giving it some character. The small Main Stand at one side of the pitch is newish and is seated and all covered. It has no supporting pillars and runs for around a third of the length of the pitch, sitting astride the half way line. It has an unusual looking roof, with a couple of floodlight pylons situated on top, giving it an individual look. On one side of the Main Stand is a small old covered terrace, affectionately known to the local fans as the 'scratching shed', whilst the other side is unused. Opposite is another new looking stand. This small covered terrace runs the full length of the pitch and is where the team dugouts are located (even though the dressing rooms are on the other side of the ground). One end is another small covered terrace, whilst opposite is a very old looking covered terrace that has a number of supporting pillars running across the front of it.
Where to Drink?
There is a Social Club at the ground. Otherwise five minutes walk away from the ground are the Globe & Gardeners Arms pubs.
Where to Eat?
Round the corner from the Globe Pub is a handy fish & chip shop.
How to Get There by Car & Where to Park
Leave the M60 at Junction 24 and take the M67 towards Sheffield. Leave the M67 at Junction 3 and at the traffic lights at the top of the slip road, turn right towards Hyde Town Centre. At the second set of traffic lights turn left onto Mottram Road. Pass a Morrisons store on your left and at the first set of lights turn right onto Lumn Road. At the top of the road there is a T-junction where you turn left onto Walker Lane. The entrance to the ground is down on the left just past Hyde Leisure Pool. There is car parking available at the ground or street parking.
Nearest Train Station
The nearest station is Newton which is just under a mile away from the ground. It is served by trains from Manchester Piccadilly.
Admission Prices 2012/13
Adult: £16 Stands, £14 Terraces
Over 65s: £9 Stands, £7 Terraces
Under 16s: £6 Stands, £4 Terraces
Record Attendance
9,500 v Nelson
FA Cup 1952/53 season.
Posted: Thursday , August 09, 2007