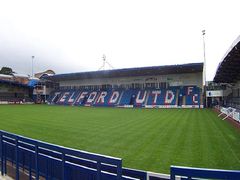 AFC Telford United
Ground Name: New Bucks Head
Capacity: 6,300 (Seats 2,200)
Address: Watling Street, Wellington, Telford,TF1 2TU
Telephone No: 01952 640064
Fax No: 01952 640021
Pitch Size: 100.6 x 64 metres
Team Nickname: The Bucks
Club Founded: 2004
Year Ground Opened: 2003
Home Kit Colours: Black & White
Official Web Site: www.telfordutd.co.uk
Fans Forum Web Site: www.buckschat.co.uk
What's The Ground Like?
On one side of the ground sits proudly the Sir Stephen Roberts Stand, named after a former Director and lifelong supporter. This single tiered, all seated stand is smart looking and has executive boxes to its rear. On one side of the stand is a stadium control box, whilst on the other side of the stand are some offices, which give the ground an enclosed feeling on this side. Both ends are covered terraces that are of identical design, both having semi circular roofs. One of these ends, the Frank Naginton Stand, is given to away supporters. On the remaining side of the ground, is an open terrace with an electric scoreboard at the back of it.
Where to Drink?
There is a bar at the ground, called Joshua's Bar, which is located behind the Sir Stephen Roberts (West) Stand. The nearest pub to the ground is the Cock Hotel or Swan Hotel which are both about 200 yards up the road.
Where to Eat?
Just up the road on the left from the Bucks Head pub is a handy kebab shop/chippy.
How to Get There by Car & Where to Park
Leave the M6 at Junction 10 and take the M54 towards Telford. Leave the M54 at Junction 6 and turn right at the roundabout above the slip road (SP A518 Telford West). Go past Tescos on your left and then over two roundabouts. At the third roundabout, where there is a Ford Garage on one corner, turn left. The entrance to the Club car park (£2) is a short way down this road on your right.
Nearest Train Station
Wellington (Shropshire) station is situated just under one mile from the stadium. It is served by trains from Birmingham New Street.
Admission Prices 2012/13
Adult: £14
Concessions: £11
Youth (14-18): £6
Under 14's: £2
Sir Steven Roberts (West) Stand:
Adults: £15
Concession: £12
Youth (14-18): £7
Under 14: £2
Record Attendance
5,710 v Burscough
April 28th 2007
Highest Victory
7-0 v Runcorn (2005/6)
Other Places of Interest
Five miles away is the Iron Bridge Gorge, known as the birthplace of the industrial revolution. A number of museums about our industrial heritage are located in the area. See www.ironbridge.org.uk for more details.
Posted: Sunday , August 14, 2011