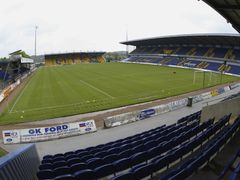 Mansfield Town
Ground name: One Call Stadium
Capacity: 9,295 (all seated)
Address: Quarry Lane, Mansfield, Nottinghamshire NG18 5DA
Telephone no 01623 482482
Fax no 01623 482495
Pitch size: 112 x 70 yards
Nickname: The Stags
Club founded: 1897 (as Mansfield Wesleyans)
Year ground opened: 1861
Home kit colours: Yellow & Blue
Official website: www.mansfieldtown.net
Unofficial websites: www.stagsnet.net
What's the ground like:
During the late 1990's and into the early part of this decade, Field Mill was largely transformed into a modern stadium, with the building of three new stands. Both ends, the North Stand & Quarry Lane End plus the Ian Greaves Stand on one side of the pitch were re-developed. The ends are almost identical single tiered stands, each accommodating just under 2,000 supporters. The last addition to the ground was the West Stand, which was opened in February 2001. This is a cantilevered two tiered stand, with a capacity of 5,500. In 2010 this stand was renamed the Ian Greaves Stand, after a former manager of the club. On the other side of the ground is the rather small Bishop Street Stand, a covered seated stand that only runs half the length of the pitch. This now looks rather dowdy alongside its new shiny neighbours and due to safety concerns, it has been closed for some time. It has boards placed in front of it to prevent access to the stand, which gives the impression that it is a building site, which does little to enhance the overall feel of the ground. The team dugouts are located in front of this stand.
Where to drink?
The Early Doors pub, situated across from the ground, is away-fan friendly. Also try The Famous Talbot, about 50 yards away.The Sandy Pate, under the West Stand, welcomes away supporters.
Where to eat?
Both the above pubs do food, while they are numerous takeaway/fast food outlets on the nearby retail park.
How to get there by car and where to park:
From the north, leave the M1 at junction 29 and take the A617 towards Mansfield. After about six miles turn right into Rosemary Street. Follow road for 1 mile and turn right into Quarry Lane.
From the south, leave the M1 at junction 28, take the A38 to Mansfield and after 6.5 miles turn right at the crossroads into Belvedere St, then turn right into Quarry Lane.
There is no parking for supporters at the ground itself, but there is a nearby private car park which charges £5. Also several pay and display car parks costing around 60p an hour. Visitors are advised not to park at the retail park, where they risk being clamped.
Nearest train station:
The ground can be seen from Mansfield railway station which is no more than ten minutes walk away. The station is on a local line and is served with trains from Nottingham.
Admission prices 2012/13
Adults: £18/£17/£15 (dependant on stand)
Concessions: £12
U16s: £9/£8 (dependant on stand)
U10s: £4
Record attendance:
24,467 v Nottingham Forest
FA Cup 3rd Round, January 10th, 1953.
Modern All Seated Attendance Record:
9,243 v Northampton Town
Division Three Play Off, May 20th 2004.
Posted: Monday , February 02, 2009