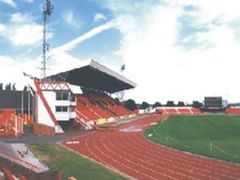 Gateshead
Ground name: The International Stadium
Capacity: 11,750 (all seated)
Address: Neilson Road, Gateshead, Tyne and Wear, NE10 OEF
Telephone no 0191 478 3883
Fax no 0191 440 0404
Pitch size: 100 x 64 metres
Nickname: The Tynesiders
Club founded: 1889 (Reformed in 1977)
Year ground opened: 1955
Home kit colours: Black & White
Official website: www.gateshead-fc.com
Unofficial website: www.heedarmy.co.uk
What's the ground like:
The International Stadium is a multipurpose venue and is used all year round for events such as music concerts, track and field athletics and football. Because of the running track separating the pitch from the stands, some supporters do not like the ground, which has a bowl shape and plenty of uncovered terraces of red seats, but the facilities are first-class: comfortable and affording a good view. The Tyne & Wear Stand, opened in 1981, houses most spectators and includes a section for away fans. It is a steep, single-tier, cantilevered structure that provides cover to more than 3,000. Opposite is the East Stand, which is open to the elements.
Where to drink?
There's a bar inside the Tyne & Wear Stand or try the Schooner Inn, which is a five-minute walk from the stadium on the banks of the River Tyne
Where to eat?
The Schooner Inn has a restaurant with river views.
How to get there by car and where to park:
From the south take A1(M) to its junction with the A194(M) just north of Washington Services. Take the A194(M) to the end of the Motorway. At the roundabout turn left onto the A184 towards Gateshead. The International Stadium is on the right after approximately three miles. Car parking is available at The International Stadium.
Nearest train station:
The stadium has its own Metro stop called Gateshead Stadium, which is a five minute walk away. This stop is around a ten minute journey away from Newcastle Central railway station, which is also the nearest mainline station.
Admission prices 2012/13:
Adults: £14
Over 60's: £9
Students: £9
Under 16's: £2
Record attendance:
11,750 v Newcastle United, friendly, August 7, 1995
Local places of interest:
Shop till you drop at the 330 stores of the MetroCentre, or visit the Angel of the North, the largest angel sculpture in the world (allegedly), and the Bill Quay Community Farm, which has some rare breeds of cow, goat, pig, sheep and rabbit.
Posted: Thursday , July 03, 2008