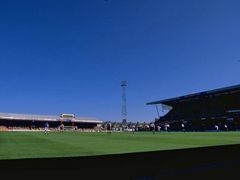 Blundell Park
Grimsby Town
Ground Name: Blundell Park
Capacity: 9,546 (10,033 with temporary seats)
Address: Grimsby Town Football Club, Cleethorpes, DN35 7PY
Telephone No: 01472 605050
Fax No: 01472 693665
Pitch Size: 101.5 x 68.5 m
Team Nickname: The Mariners
Club Founded: 1878 (as Grimsby Pelham)
Year Ground Opened: 1898
Home Kit Colours: Black & White
Official Web Site: www.grimsby-townfc.co.uk
Fans Forum Web Site: www.thefishy.co.uk
What's The Ground Like?
The stadium was built in 1898, but only one of the original stands remain.
The Pontoon Stand was converted to an all-seater facility in the early 1990s in response to the Taylor Report following the Hillsborough disaster of 1989 and the seats were laid out in black and white stripes to reflect the club's colours. The Pontoon mainly houses the more vocal supporters of the club, and often houses a drummer.
The two tiered Findus Stand runs along half of the length of the pitch on the west side. This was built with money from former fish processing company Findus and the stand was originally known as the Findus Family Stand, built by South Humberside Fabrication Services. It has subsequently been called the Stones Bitter Stand, John Smith's Stand and most recently the Carlsberg Stand. Due to the Company Findus returning to Grimsby, the Carlsberg stand has now returned to its original name.
Opposite the Findus stand, on the east side of the ground, is the Main Stand which dates from 1901 and is often claimed to be the oldest stand in the football league
How to Get There by Car
The ground is not actually in Grimsby, but the neighbouring town of Cleethorpes. The ground is on the A180 which runs between Grimsby & Cleethorpes. Cleethorpes is well signposted from Grimsby town centre.
This road runs right past the ground. The ground is adjacent to the McDonalds Drive-thru. There is no car park at the ground, parking is all on adjacent side streets.
Matchday Admission Prices 2012/13
Main Stand/Upper Findus Stand/Away Supporters* £16, £10, £5 (matchday £18, £12, £8)
Pontoon Stand/Lower Findus Stand £15, £10, £5 (matchday £18, £12, £8)
* Please note that away fans concessions and child tickets must be purchased from the ticket office in advance.
Record Attendance:
31,651 v Wolverhampton Wanderers
FA Cup 5th Round, February 20th, 1937.
Modern All Seated Attendance Record:
9,528 v Sunderland
March 13th 1999
Posted: Tuesday , July 20, 2010