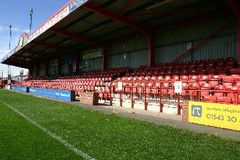 Tamworth
Ground Name: The Lamb Ground
Capacity: 4,065 (Seated 518)
Address: Kettlebrook, Tamworth, Staffordshire, B77 1AA
Telephone No: 01827 65798
Team Nickname: The Lambs, The Reds
Club Founded: 1933
Year Ground Opened: 1934
Home Kit Colours: Red & White
Official Web Site: www.thelambs.co.uk
Fans Forum Web Site: www.tamworthfans.co.uk
What's The Ground Like?
Following a season at the Jolly Sailor ground, Tamworth F.C. made the short move across the river Tame to start the 1934/35 season in the Birmingham Combination at the Lamb ground.
The ground takes its name from the Lamb Inn, which stood for many years at the entrance to what is now the ground's car park. However, the first known use of the site was as a pig farm at the turn of the 19th century.
The Lamb acquired its floodlights in 1969 from Scarborough F.C. and the original pylons are still in place today.
Surprisingly, none of the four sides of the ground have ever been officially named. A number of common names have been used over time and most parts of the Lamb can be refereed to by several names. The Stand Side is also known as the North Side, the Popular Side and the Town Side, for example.
Opposite the Main Stand on the Kettlebrook Side of the ground is a long terrace, commonly known as the Shed and home to the infamous Shed Choir. This structure is one of the oldest parts of the ground and is clearly visible on photographs dating from the early 1950s.
At the opposite end of the pitch is the Castle End, which is a large open terrace. Work on this terracing was undertaken at the same time as the Main Stand was constructed, in the summer of 1996. It was intended that this terrace would also be covered, but suitable foundations could not be built. Numerous names have been used for this end of the ground, most of which relate to its past appearance or use. The area used to be formed from a grass and gravel bank, giving rise to the Grit End and the Grass Bank as possible names. Scoreboard or Clock End are other old favourites, while Bottom End has become a common term in recent years.
Where to Eat and Drink?
Catering facilities are located at the Castle End, by the clubhouse, and at the Meadow Street End. Both ends serve hot and cold food and drinks.
How to Get There by Car
Leave the M42 at Junction 10 and take the A5 towards Tamworth. Follow the A5 bypass into the town and take the signs for the town centre. Follow the signs towards the Snow Dome and Glascote/Amington. After passing the Snow Dome on your left, you should see the ground on your right. There is a fair sized car park at the ground, and also street parking.
Nearest Train Station
Tamworth station is a 10-15 minute walk away from the ground.
Admission Prices 2012/13
Adults: Terrace £12/ Seats £14
Over 65/16 & 17 year olds: Terrace £7/Seats £9
Age 6 - 15: Terrace £3/Seats £5
Under 5s: Terrace Free/Seats £3
Record Attendance
4,920 v Atherstone Town, 1948
Posted: Thursday , July 22, 2010