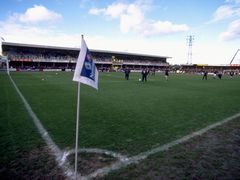 Hereford United
Ground Name: Edgar Street
Capacity: 5,300 (2,761 seated)
Address: Blackfriars Street, Hereford HR4 9JU
Telephone No: 08442 76 1939
Fax No: 08442 761982
Pitch Size: 114 x 76 yd (69 m)
Team Nickname: The Bulls
Club Founded: 1924
Year Ground Opened: 1924
Home Kit Colours: Black & White
Official Web Site: www.herefordunited.co.uk
What's The Ground Like?
Merton Stand
The Merton Stand, on the eastern side of the ground, is the only all-seater stand in the ground and was built in 1968. It currently has a capacity of 1818.
The Meadow End is located at the northern end of the ground and is traditionally populated with the club's most vocal supporters. It is a fully covered terrace and has a distinctive curve to its shape. The flat area in front of the terracing enables supporters to stand directly behind the perimeter wall of the pitch, very close to the action. It has a capacity of 1,400.
The Len Weston Stand (referred to as the Cargill Stand for sponsorship reasons), on the western side of the ground, is a narrow two-tiered stand and was built in 1974, replacing the previous wooden grandstand, which was moved to a field near Risbury in the County. The stand has a total capacity of 1996.
The Blackfriars Street End, on the southern side of the ground, is a fully covered terrace similar to the Meadow End, but is positioned further away from the pitch.
Admission Prices 2012/13
Adult: £18 Stands, £16 Terraces
Concession (60+ and 15-20yrs): £15 Stands, £12 Terraces
11-14 yrs: £7 Stands, £5 Terraces
Under 10s: £5 Stands, £3 Terraces
Posted: Monday , July 02, 2012