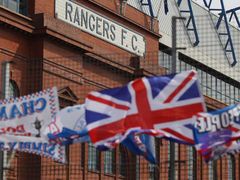 Ibrox Stadium
Lee: Rangers switch under consideration
Brian Lee, chairman of the league's governing body, has revealed Scottish side Rangers are being considered for a switch to English football.
The Football Conference will meet with its member clubs on Monday, 21 January to discuss the possibility of accepting Rangers into the Blue Square Bet Premier.
However, Lee was quick to point out there are a number of hurdles standing in the way of a proposed switch for the Ibrox outfit.
Speaking to talkSPORT, Lee said: "On Monday we have a mid-season meeting of clubs so that is a topic for conversation. It's up to the clubs to make rule changes.
"There are one or two problems, of course. It's up to FIFA whether a club can change countries or not, so that's the first issue. And the second, and probably the most important, is the problem it would create with promotion and relegation and having an uneven number of teams.
"It would be wrong if the Football League would not take Rangers as part of the promotion and relegation system. Otherwise they would be in the Conference keeping out a team who might have the wherewithal to go higher in the pyramid.
"But they are not insurmountable problems. You will have to have the co-operation of a lot of different organisations to make it possible, but where there is a will there is a way."
talkSPORT also quizzed 14 of the 24 teams in the Blue Square Bet Premier, asking if they would accept Rangers into the top tier on non-league football.
The following clubs gave their verdict on the proposed move:
Barrow - MAYBE
Braintree Town - YES
Ebbsfleet - MAYBE
Forest Green - NO
Gateshead - NO
Hyde - MAYBE
Macclesfield - YES
Mansfield - YES
Newport - NO
Nuneaton - YES
Southport - YES
Stockport - YES
Tamworth - YES
Wrexham - YES
Posted: Wednesday, January 16, 2013