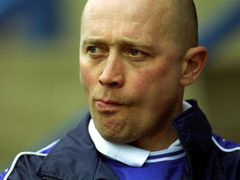 Nicky Law
Mixed emotions for Reds boss
Alfreton Town boss Nicky Law had conflicting feelings following the cancellation of Tuesday's game against Barrow, due to thick fog inside the Impact Arena.
The game was called off minutes prior to kick-off, as a swirling fog engulfed the stadium, dramatically reducing visibility inside the ground.
Law admitted that the decision by the referee to call off the game was the correct one, however, the chance for the Reds to continue their fine recent form went a-begging, which left him slightly disappointed.
"We were looking forward to it. We had a good win last Tuesday, got a good point, a deserved point at [league leaders] Wrexham last Saturday, and we were confident that we could get something out of the game," he told the club's official website.
"But I think the referee has made the right decision. The fog started to clear but it came down again and I said to Barrow manager Dave Bayliss that if either of us had lost the game due to a dubious offside decision you are going to be left cursing.
"You have to respect the referee's decision. I know it is an inconvenience and far from ideal, but he has a job to do and I think he has made the right decision.
"We were coming into this game on the back of a couple of decent results and I don't think our performances have been drastically bad before that. They haven't gone our way but such is life and such is the level [we are at].
"The referee was comfortable to go ahead at one stage but what he was saying also was that he didn't want to start the game and not finish it."
When asked if he felt that March's fixtures will prove to be a pivotal point in the Reds' season, Law replied: "We have looked at March, it was always going to be an important month and we think that maybe out of the next six or seven fixtures we can get enough [points] to get to where we want to be".
Posted: Wednesday, March 06, 2013