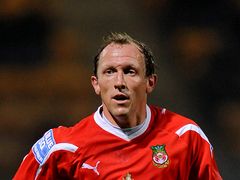 Andy Morrell
Morrell ready for play-off challenge
Wrexham player-manager Andy Morrell says his side is better prepared to face this season's play-offs if need be, but is keen to avoid it if possible.
The Dragons' main focus will be on winning the Blue Square Bet Premier title and automatic promotion, and while they are currently topping the standings with 68 points, all the teams in the current top-five are in with a chance of claiming pole position.
Grimsby, in fifth, are four points adrift of the leaders, but have two games in hand. Newport, Mansfield and Kidderminster are all on 65 points with the Stags holding a game in hand and the Exiles with two in hand.
But Morrell is confident of making it third time lucky if they have to compete in the play-offs this term, after two successive failures.
"A few of the players have been through it twice so we don't want it to happen again," Morrell told BBC Sport.
"If we have to go through the play-offs I feel I'm more experienced in the way I'll approach games.
"Hopefully we can put that experience right and go up and do ourselves justice. Let's not worry about that yet, let's worry about putting more points on the board and see where that takes us.
"I don't care how we get up as long as we get up. Obviously it's a little bit easier if we don't need the play-offs but if it has to be that way so be it.
"We've just got to put ourselves in a position where we're threatening. Our momentum is good at the moment and we've just go to keep that going. If we do that, we've got have a chance."
Posted: Thursday , March 07, 2013