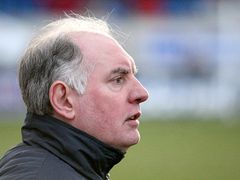 Alan Devonshire
Devonshire not relaxing just yet
Braintree boss Alan Devonshire says he will not be relaxing in the race for Blue Square Bet Premier survival until his side reach a landmark of 50 points.
The Iron continued their good run of form over the weekend with a 2-1 success over relegation-threatened Gateshead, making it three wins in a row.
Currently on 44 points, The Essex outfit could reach the target Devonshire has set for them over the next two games when they host struggling Nuneaton Town before traveling to Dartford.
"We've had a good run," he told the Braintree Chronicle. "We've won five of our last seven so we're doing ok.
"But we've got to keep going and I won't relax until we've got 50 points. Every game's difficult, if you're off it a little bit you're going to get beaten.
"We've won three in a row now, three difficult games, and we've got another difficult game on Saturday.
"Let's see if we can extend the run, that's the challenge that I'll put to the players."
Posted: Thursday , March 07, 2013