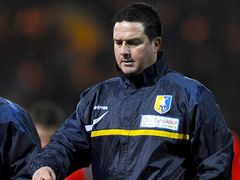 Paul Cox
Cox unhappy with Woking incident
Mansfield Town boss Paul Cox has demanded that action be taken against the Woking fan who threw a brick through the away dressing room window after the Stags' 2-1 win.
The brick hit Stags goalkeeper Alan Marriott in the back of his head, after which several players and the manager himself rushed out to confront the responsible party.
"Thankfully Alan was facing the other direction and only suffered a small cut," Cox told The Chad.
"But the shards of glass were huge and someone could have been blinded or scarred for life.
"Then they spat in my face and it went straight into my eye, I wouldn't accept that on the street so I am not accepting that just because I am a footballer manager.
"We ran out into the car park and caught up with them and there were a few handbags.
"Whatever comes my way I will have to accept as I don't know what the referee will put in his report. I have probably acted a bit rash and hasty but I will not accept what happened at this level of football.
"We've done all we can. It's up to the home club now. The authorities must do something before a player gets seriously injured the way the game is going right now.
"I know it's only a small minority of idiots but they need to be banned."
The Cards have also released a statement apologising for the incident, but have refuted reports that it was a brick that broke the window.
They also confirmed the fan was a season-ticket holder and that he would be banned from the club.
Posted: Thursday , March 07, 2013