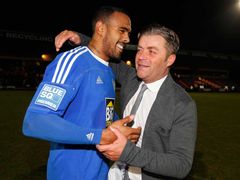 Matthew Barnes-Homer & Steve King
King delighted to see Barnes-Homer score
Macclesfield Town boss Steve King says he was delighted to see striker Matthew Barnes-Homer end his dry-spell with the winning goal against Lincoln City.
The goal was his first since his double against Championship outfit Cardiff City in the FA Cup Third round back in January.
King was happy to see that his decision to stick with the player in his barren spell has paid off.
"You can see the weight off his shoulders," he told BBC Radio Manchester.
"He's taken a lot of stick and he wasn't getting that before Christmas when he was scoring every week."
"Hopefully it can kick him on again now.
"You can make a decision where you take him out of the team and then does his head go completely?
"Or do you keep him in and hopefully he'll get the goal that can get him going again? We've stuck with him and he's scored the winner."
Posted: Thursday , March 07, 2013