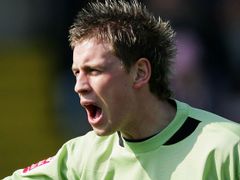 Alan Marriott
Stags refer incidents to Surrey police
Mansfield Town have released a statement regarding the incidents that took place at the Kingfield Stadium after the 2-1 win over Woking on Wednesday.
It was alleged that a Woking fan threw a brick through the away dressing room window, striking goalkeeper Alan Marriot in the head before spitting at manager Paul Cox.
Woking had earlier today issued a statement apologising for the events, but refuted claims about a brick being thrown.
A statement released by the Stags read:
Mansfield Town Football Club have this afternoon made contact with Surrey Police following a crime-related incident at Woking's Kingfield Stadium following last night's match.
It follows a statement from Woking Football Club who today confirmed that an individual home supporter broke the window to the away dressing room minutes after the final whistle of the game, which Stags won 2-1. The supporter in question, a known season ticket holder to the club, has been informed that he is 'no longer welcome at the club', Woking FC said.
Mansfield's Chief Executive Officer Carolyn Radford said: "We can confirm that we have now referred this matter to Surrey Police.
"This behaviour is totally unacceptable and has no place in our sport.
"Woking have apologised to us for this unfortunate incident and we thank them for their co-operation on this matter."
Posted: Thursday , March 07, 2013